VISA Cash/Checkcard
• No Annual Fee
• Looks like a credit card, but works like a check. Accesses your checking
account instead of a line of credit.
• Offers you the convenience of worldwide access to your checking account.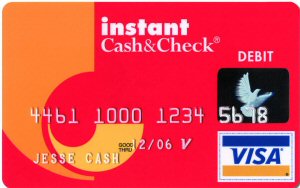 We also offer a Classic Card, Business Card and a Gold Card. Stop in or call us for more information.
Our debit cards offers card holders the benefits of ScoreCard® Rewards
Earn Bonus Points each time you use your Dakota Star Federal Credit Union VISA debit card.
Redeem your ScoreCard® Bonus Points for merchandise, such as digital camera, enjoy travel rewards for hotels, car rentals and airline tickets.

• Earn 1 Bonus Point for every $5 spent on purchases!
• Redeem Bonus Points for travel, merchandise, car rentals, hotels and more. Simply log on to
www.scorecardrewards.com to check out what's available.
• Earn one airline ticket for just 27,500 Bonus Points!
• Take up to 5 years to use your Bonus Points!
•Check you ScoreCard® Bonus Point Rewards at www.scorecardrewards.com!